Metal fillings may be durable, but they look far from natural. That is, unless you're a robot.
Thanks to modern dental materials, silver fillings aren't the only game in town any more. So why are so many of us still packing mercury in our mouths?
Tooth-coloured fillings made of resin or porcelain are not only extremely strong and wear-resistant but also almost impossible to tell from real enamel. Resin is usually used for smaller fillings, while porcelain inlays or onlays are a better choice for larger ones that require a solid foundation for chewing.
Replacing old silver fillings with these new, natural looking materials can take years off your smile by erasing evidence of past dental work. Best of all, you can turn back time in just one visit—because we mill most of our porcelain on-site while you wait, using our CEREC 3D system.
Related Fillings Articles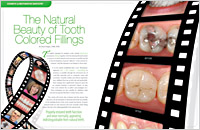 The Natural Beauty of Tooth Colored Fillings
The public's demand for aesthetic tooth colored (metal free) restorations (fillings) together with the dental profession's desire to preserve as much natural tooth structure as possible, has led to the development of special "adhesive" tooth colored restorations... Read Article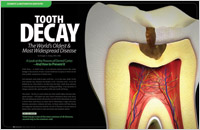 What is Tooth Decay? – And How to Prevent It!
Tooth Decay is an infection, and many people don't realize that it is preventable. This article is the first in a series about tooth decay, perhaps the number one reason children and adults lose teeth during their lifetime. Explore the causes of tooth decay, its prevention and the relationship to bacteria, sugars and acids... Read Article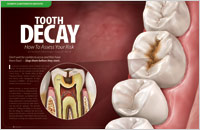 Tooth Decay – How To Assess Your Risk
Don't wait for cavities to occur and then have them fixed — stop them before they start. Modern dentistry is moving towards an approach to managing tooth decay that is evidence-based — on years of accumulated, systematic, and valid scientific research. This article discusses what you need to know to assess your risk and change the conditions that lead to decay... Read Article