An ounce of prevention is worth a pound of cure. That's why our team of dentists, dental hygienists, and assistants take the time to educate our patients on the need for routine cleanings and examinations—and how to care for their teeth and gums on a daily basis.
Regular visits to our office mean that potential problems are caught early on, before they become painful and require more costly action. For example, a cavity that is left untreated could eventually cause a tooth to abscess—a condition that usually requires a root canal and a bout of antibiotics.
Routine cleanings help to improve the health of your gums by removing plaque and tartar from your teeth. Left unattended, tartar build-up can lead to gum disease—which can cause early tooth loss and infections. Did you know that the same bacteria associated with gum disease is also linked to heart attacks, strokes, and other serious health problems?
At Metropolitan Dental, we believe strongly that prevention should begin at as young an age as possible. But it's never too late to start. Whatever your situation, our goal is to build a comfortable and trusting relationship that will last a lifetime.
We also sell fluoride treatments, mouth rinses and electric toothbrushes.
Related Oral Hygiene Articles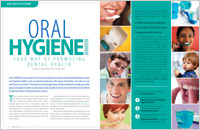 Oral Hygiene – Dental Health for Life
The best tools for maintaining your oral health and minimizing dental problems are a quality toothbrush, toothpaste, a roll of dental floss, approved mouthwash and good diet. Unfortunately, myths and folklore abound on how and what to use to best effect. This article cuts through the confusion with a winning game plan for oral health... Read Article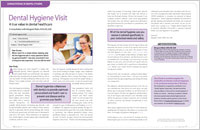 Dental Hygiene Visit
Each dental hygiene visit begins by reviewing your health history to identify issues that may necessitate special precautions during dental hygiene care to ensure your safety and to prevent medical emergencies... Read Article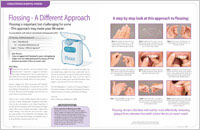 Flossing - A Different Approach
Flossing is important but challenging for some - this approach may make your life easier! Research suggests that while most people will habitually brush their teeth, developing a flossing habit is still a bit more difficult. Flossing however, remains the best method for most effectively removing plaque from between the teeth where the brush won't reach... Read Article