Like using a beautiful wood veneer to cover a piece of plywood, bonding a porcelain veneer to an imperfect tooth can change its look completely.
Strong, durable, and stain-resistant, these thin porcelain shells are an instant cure for teeth that are oddly shaped, chipped, pitted, discoloured, crooked, or improperly sized or spaced.
Veneers are a less invasive alternative to crowns because they require only a thin layer of the tooth to be removed and can be fitted with little or no anaesthetic.
Custom made to the exact size, shape, and colour you want, they can be used on one or more visible teeth to create a perfect, radiant smile: all in just two appointments!
Related Porcelain Veneer Articles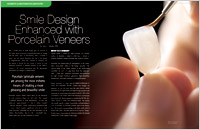 Smile Design Enhanced with Porcelain Veneers
In part two of the series on Smile Design, Dear Doctor takes an in-depth look at Porcelain Veneers, a superior yet minimally invasive technique for smile enhancement. We'll explain not only when they're appropriate, but also when they're not... Read Article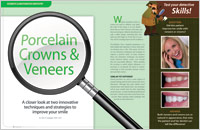 Porcelain Crowns & Veneers
A closer look at two innovative techniques and strategies to improve your smile. In many instances these two restorative techniques can produce nearly identical esthetic results, even though they are structurally different... Read Article