Have you ever been eating something and suddenly felt as if you've bitten down on a stone—only to discover that part of your tooth has broken off?
As we age, root canals, large fillings, extensive decay, and chipped or cracked enamel can weaken the structure of our teeth—making them more susceptible to breaking. When the surface of the tooth is compromised but the root system is still intact, a crown may be just what the dentist ordered.
Porcelain crowns are solid caps that fit over the visible surface of your tooth. They not only give it a new, natural-looking appearance that matches the colour of your existing teeth—but also make it stronger and more durable.
Being fitted for a crown usually takes two visits. On the first, the surface of the tooth is shaved down so the crown will fit over top. A filling may also be needed to bolster the original structure. A bite impression is then taken and sent to the manufacturing lab, and the patient is fitted with a temporary acrylic crown. This will be removed about two weeks later, when the porcelain crown is cemented in place.
Metropolitan Dental is also one of the few offices in Ottawa able to create porcelain crowns on its premises using CEREC 3D technology. This computer-assisted system designs and mills the tooth from a solid piece of porcelain, while you wait.
This eliminates the need for an impression or a temporary crown, as the permanent crown is made and fitted in the same appointment. The bottom line is that you end up with a fully functional, great-looking new tooth in a matter of minutes!
Related Dental Crown Articles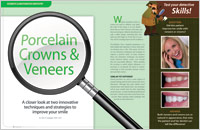 Porcelain Crowns & Veneers
A closer look at two innovative techniques and strategies to improve your smile. In many instances these two restorative techniques can produce nearly identical esthetic results, even though they are structurally different... Read Article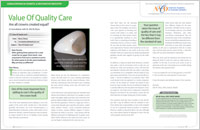 Value Of Quality Care
Are all crowns created equal? One of the most important factors adding to cost is the quality of the crown itself. Another fact is that dentists generally sub-contract out crown manufacturing to a dental laboratory technician, as they rarely make crowns themselves... Read Article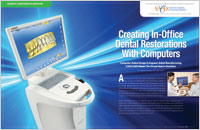 Creating In-Office Dental Restorations With Computers
Once upon a time, dentists - and patients - needed to wait weeks for a dental laboratory to make crowns and other dental restorations. Now, with an exciting digital technology known as Computer-Aided Design/Computer-Aided Manufacturing (CAD/CAM), some dentists are fabricating high-quality restorations themselves right in their own offices - in minutes! Read Article