Life is hard on our teeth, even when we take proper care of them. Circumstances beyond our control, such as age, genetics, and accidents or illnesses, can all have an effect on our oral health—as can diet and habits such as smoking.
Regardless of the cause, a cavity, tooth infection, or damaged or missing tooth robs you of your ability to function normally. It can make eating painful, change the way you chew, cause bad breath, and make you self-conscious about smiling. Some of these conditions can lead to even bigger problems if they're ignored.
Whatever your concern, Metropolitan Dental can help you be yourself again. And that doesn't just mean restoring your teeth to their normal, healthy state—it also means eliminating jaw pain, healing cold sores, and treating inflamed gums.
Related General Dentistry Articles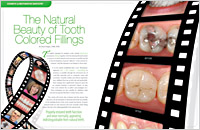 The Natural Beauty of Tooth Colored Fillings
The public's demand for aesthetic tooth colored (metal free) restorations (fillings) together with the dental profession's desire to preserve as much natural tooth structure as possible, has led to the development of special "adhesive" tooth colored restorations... Read Article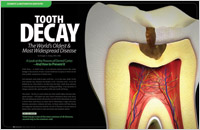 What is Tooth Decay? – And How to Prevent It!
Tooth Decay is an infection, and many people don't realize that it is preventable. This article is the first in a series about tooth decay, perhaps the number one reason children and adults lose teeth during their lifetime. Explore the causes of tooth decay, its prevention and the relationship to bacteria, sugars and acids... Read Article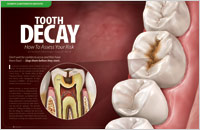 Tooth Decay – How To Assess Your Risk
Don't wait for cavities to occur and then have them fixed — stop them before they start. Modern dentistry is moving towards an approach to managing tooth decay that is evidence-based — on years of accumulated, systematic, and valid scientific research. This article discusses what you need to know to assess your risk and change the conditions that lead to decay... Read Article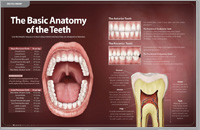 Basic Anatomy of Teeth
Adults have 32 teeth. This includes the wisdom teeth which are simply a third set of molars. It is possible to be born with less than 32 teeth or more than 32 teeth. If a person has had all four of their wisdom teeth removed, they will have 28 teeth...Read Article