Teeth are tough, but even they need extra protection sometimes. Watch any hockey game (or post-game interview) and you'll see how common mouth injuries are among athletes. And it isn't just the pros who are at risk.    
At Metropolitan Dental, we protect the investment you've made in your smile by creating comfortable, custom mouthguards that can take a hit when you're playing sports. And, because they're moulded on site to fit your exact bite, having one in your mouth won't throw you off your game.
Custom mouthguards should be worn by kids and adults alike in any sporting activity where a blow to the mouth is a possibility. After all, an ounce of prevention is worth a pound of cure.
Custom nightguards can also be made to prevent tooth-grinding—a common problem that can cause excessive wear to your teeth. At Metropolitan Dental, we get to the root of the problem by conducting a thorough examination, including the use of our advanced K7 muscular evaluation system.
Not all tooth-grinding issues are the same, and we want to be sure and give you the appliance that's right for you. That's why we take your long-term overall and dental health into account in correcting problems such as this
Related Dental Injury Articles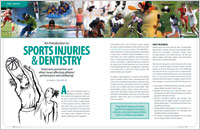 An Introduction to Sports Injuries & Dentistry
Dental injuries incurred during sports activities are highly treatable, and can involve positive outcomes if participants act quickly to see a dentist after an injury. However, if not treated quickly these kinds of injuries can lead to discomfort, embarrassment and a lifetime of dental costs... Read Article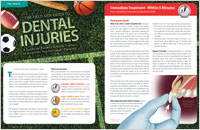 The Field-Side Guide to Dental Injuries
Accidents to the teeth, jaws and mouth can happen at any time during any sporting activity. Proper attention can save pain, alleviate anxiety and costly dental treatment. A little knowledge, as they say, can go along way. This field-side guide briefly explains some simple rules to follow when dealing with different dental injuries and when you need to see the dentist... Read Article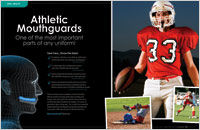 Athletic Mouthguards
There are times when an athlete can feel invincible... able to connect on every jump-shot, run faster and longer, or hit every pitch, but statistics show that even on their best days accidents can happen. An ounce of prevention goes a long way... For a small cost, a protective mouthguard can prevent excess anxiety, risk, injury, pain, suffering, and years of dental treatment... Read Article